MAY
>>>A major police scandal breaks in Oakland after a then-underage sex worker says she was involved sexually with numerous Oakland police officers. Officers from other local jurisdictions were also involved with the woman known as "Celeste Guap." Police Chief Sean Whent resigns and Oakland Mayor Libby Schaaf seeks to identify the leakers of the scandal.


Mike Honda, center, and Ro Khanna
>>>During the only candidates forum held during the June primary in the hard-fought 17th Congressional District race—and destined to be the only meeting during the entire campaign season—the group of challengers to Rep. Mike Honda ignore the incumbent and instead repeatedly bash Ro Khanna.
>>>Rep. Mark DeSaulnier reveals in a newspaper interview that he was diagnosed with leukemia in 2015, but the cancer is in remission. DeSaulnier would continue his service without pause and easily win re-election in November.
>>>Assemblymember Rob Bonta's primary opponent, Republican Roseann Breault-Slonsky, becomes a national convention delegate for Donald Trump. Meanwhile, Republican Assemblymember Catharine Baker, in a tough and expensive race in the moderate 16th District against Democrat Cheryl Cook-Kallio. is forced to disavow any support for Trump.
"He owes me money. He didn't pay me. It's the principle of the thing. It's dishonest."
-Bill Ferguson, a former staffer for previous Ro Khanna congressional campaigns says he was stiffed $6,000 for back wages. Khanna calls the incident "extortion."
>>>A congressional amendment that would have barred contractors from receiving federal contracts if they discriminate against members of the LGBT community fails by a single vote and Rep. Eric Swalwell is one of eight who missed the vote. He later blames it on a "family health emergency."
>>>A campaign email from Alameda County Supervisor Scott Haggerty on behalf of Supervisor Nate Miley's re-election appears to show coordination with an independent expenditure committee formed for Miley by 94-year-old Mary Warren. Warren would later pass away in August.
JUNE
Nancy Skinner and Sandre Swanson
>>>In the last two weeks of the campaign, oil and tobacco interests spend a $138,000 in support of Ninth state Senate District candidate Sandre Swanson in a last-ditch effort to tighten up the race against favorite Nancy Skinner and two other candidates. It doesn't work as Skinner tops Swanson by 18 points in the primary, but both advance to the general in November.
>>>A hard-hitting mailer sent on behalf of Alameda County Supervisor Nate Miley just days before Election Day slams challenger Bryan Parker. It suggests Miley is nervous, yet he ends up trouncing Parker by nearly 25 points.
>>>Ro Khanna registers an upset in the June primary by topping incumbent Rep. Mike Honda by just under two points. The result puts Honda's re-election in very serious doubt.
>>>Hayward opts for the status quo and re-elects Councilmembers Francisco Zermeno, Elisa Marquez, Al Mendall, and returns former Councilmember Mark Salinas to the dais.
"Backroom dealing cannot be the standard by which the city of Oakland is governed."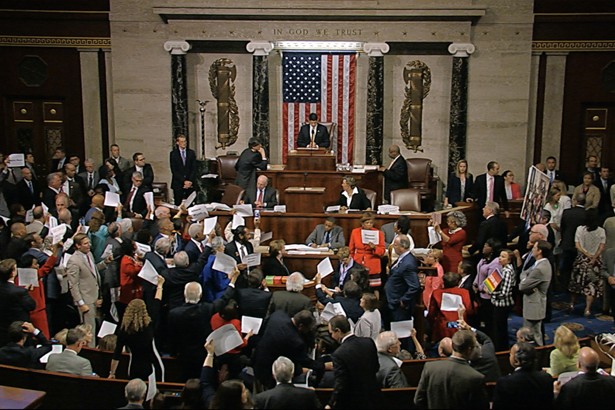 >>>East Bay Reps. Barbara Lee, Eric Swalwell, Mike Honda participate in an almost unprecedented sit-in on the House floor in protest of Republicans stymieing a vote on gun control legislation.
>>>Oakland City Council formally approves a ban on coal shipments through the city. The developer of the former Oakland Army Base, Phil Tagami, threatens a lawsuit and follows through in December.
>>>Hayward's embattled, yet colorful school superintendent Stan "Data" Dobbs is placed on paid leave after fallout from the Ray McDonald school visit builds.
JULY
>>>Fran David, Hayward's city manager since 2010, announces her retirement, effective the end of September. Her assistant Kelly McAdoo is named her replacement later in the month.


"What happened tonight in #Dallas is sick & wrong. #BlackLivesMatter but this isn't justice. We must be better than this."
-For the "How did he get away with this" file, Rep. Eric Swalwell's initial reaction in a tweet regarding the Dallas shootings that killed five police officers is Black Lives Matter was behind attack.
>>>A rent control measure offered by the Alameda Renters Coalition makes the November ballot, but a rival measure banning rent control, offered by island landlords suffers an embarrassing fate and fails to gain enough valid signatures for inclusion on the ballot. Meanwhile the Alameda City Council places it own rent measure on the ballot, which some say is meant to confuse voters.
>>>Alameda Mayor Trish Spencer writes a series of odd and poorly-written rebuttals to city-backed ballot measures. In one, she appears to call out Alameda's city manager.

AUGUST
>>>Oakland Mayor Libby Schaaf, in a bid to remake the Oakland City Council, backs challengers running against Councilmembers Rebecca Kaplan and Noel Gallo. The ballsy move falls flat as Peggy Moore and Viola Gonzales fail to come close to upending the incumbents.
>>>Hayward school board member John Taylor is found to have improperly used district resources for his campaign earlier in the year for the Hayward City Council. He later admits using the school district print shop for campaign signage and flyers.
>>>Amazingly, there will be just one contested race in all of San Leandro. That includes three seats for the City Council and four for the school board.
"I think they should clean their house first."
>>>It is learned Alameda Mayor Trish Spencer improperly intervened in a incident between an Alameda resident and the police officer who two weeks prior had arrested the mayor's husband for a DUI. Her husband will file a legal complaint in September against the city and police department over his arrest.
>>>Hayward Police Chief Diane Stuart is placed on administrative leave for an undisclosed matter. Through the end of the year, the public still doesn't know what the city's investigation is about, but in December, Stuart announces her retirement.
2016 YEAR-IN-REVIEW
PART 2 – Oakland police scandal erupts, coal shipments banned; June election brings few surprises; 
PART 3 – Khanna heads to Congress; Oakland moves to keep the Raiders; Ghost Ship tragedy; East Bay responds to Trump