CONGRESS | State Sen. Ellen Corbett's interest in running Congress in 2014 has one big problem: she does not live in the 15th Congressional District. But, that has since been rectified.
Alameda County records show Corbett, termed out of the State Senate in two years, is preparing in earnest to take a shot at Congressman-elect Eric Swalwell's seat.
In late July, according to county records, Corbett received deed to a property in downtown Hayward. The three-bedroom, one bath modest home was purchased last July 23 for $281,500. Corbett also owns a home in San Leandro. The Hayward property is well within the boundaries of the 15th District.
Corbett's move to the so-called "Heart of the Bay" is a clear indication she will take on Swalwell for the seat he just won last month by upsetting 40-year incumbent Rep. Pete Stark.
In fact, Alameda County Democrats, largely disgruntled over Swalwell's internecine uprising from the Tri Valley, are beginning to coalesce around Corbett's candidacy. Swalwell, still weeks from taking the oath of office on Jan. 3, 2013, may be already feeling the pressure.
An Associated Press article published Wednesday highlighting some state lawmakers taking a last-minute advantage of rules allowing them to repair government-issued automobiles last year before having the option to purchase them outright. Corbett was one of the legislators mentioned in the article.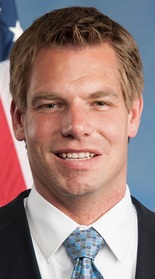 According to the AP, Corbett accepted a 55-point tune up for her Toyota Prius along with minor repairs costing taxpayers $827. In response, Swalwell tweeted Wednesday evening, "Lawmakers deserve no better treatment than anyone else. When you're elected, the public should be serviced, not your car."
The political maneuvering to challenge Swalwell does not end there. Rumors have been swirling about the possibility of Stark moving back to the Bay Area. This week, Stark's wife, Deborah Stark told The Citizen moving back to the Bay Area is an attractive option, but they will wait for their oldest child to graduate from high school next spring and are exploring school options for their twin son and daughter.
The possible return of the Starks raises a host of interesting possibilities. Many East Bay political insiders long assumed Deborah Stark would be the heir apparent to the Stark legacy in Congress. However, some point to the perception Rep. Stark favors former Obama Commerce Department official Ro Khanna in 2014. But there is more backroom dealing going on.
According to sources, Corbett and Khanna met over two weeks ago to discuss their potentially intertwined destinies. It is believed party leaders indicated they would support Corbett's run against Swalwell in two years, while offering Khanna a shot at unseating long-time South Bay Rep. Mike Honda.
Such a deal may not sound palatable to Khanna who would need to expend his $1 million war chest against a popular incumbent. Honda, though, could be susceptible for some of the same reasons that befell the entrenched Stark this year. Khanna's connections to Silicon Valley money and wealthy Indo Americans, along with the gravitas that comes with working in the Obama administration, makes him a formidable opponent in any district.