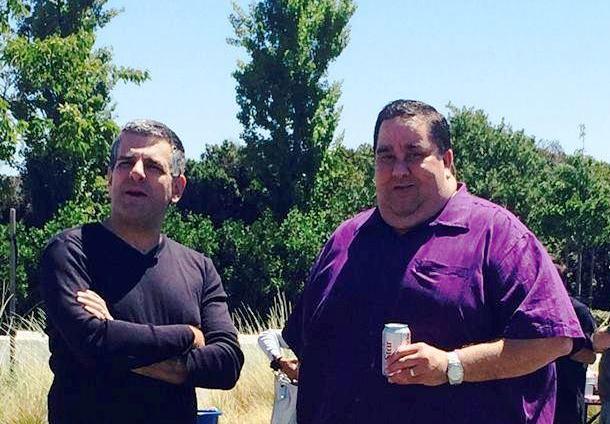 Tech CEO Guy Gecht with Fremont Mayor Bill Harrison. Gecht was ordered by the U.S. Department of Labor to pay $40,000 in back wages to eight worker the company paid as little as $1.21 an hour.
CONGRESS | 17TH DISTRICT | The Alameda Labor Council wants congressional candidate Ro Khanna to return a maxed-out contribution to his campaign from the CEO of a Fremont tech company who paid some of its workers $1.21 an hour to install computers.
Guy Gecht, the CEO of Electronics for Imaging, contributed $2,600 to Khanna's campaign in September 2013 to unseat South Bay Rep. Mike Honda. However, around the same time, Gecht was alleged to have paid some Indian immigrants as little as $1.21 an hour, according to an investigation by the U.S. Department of Labor. The company was ordered to pay over $40,000 in back wages and a $3,500 fine, according to news reports.
Josie Camacho, the executive secretary-treasurer for the Alameda Labor Council issued a stern call for Khanna to return the donation. Khanna, like Honda, is a Democrat.
"When Khanna approached us for support, he promised that he was a progressive, but we've long been concerned that Khanna has been acting as a tool for right-wing millionaires and conservative CEOs to push their policies," said Camacho. "Hopefully even he can agree that that there is no room for this kind of practice in Silicon Valley. Ro should immediately refund the $2,600 donation from Gecht."
Khanna's campaign responded, saying, "Congressman Honda seems to have just discovered that wage theft exists two weeks before an election. Further, he has had no problem taking huge amounts of money from defense contractors, big pharma, and many other special interests including PG&E–even after their criminal negligence resulted in the death of eight people. It's unfortunate that Congressman Honda is playing politics on the backs of workers."
However, this is not the first time Khanna's large group of wealthy tech contributors has reflected poorly on the candidate. Last April, Khanna donated $5,200 in contributions from tech entrepreneur Gurbaksh Chahal to a non-profit that helps women and children victimized by domestic violence. Chahal faced 45 felony counts of battery against a woman, which was also taped by video cameras. The charges were later greatly reduced.
In addition, some contributors to Khanna's campaign asked for their money back after claiming they only gave money to him in 2011 under the auspices he would run to replace Pete Stark in the 15th Congressional district, upon his retirement.